Allstate is expecting insurance losses of about $593 million in August in the wake of Hurricane Harvey.
That's more than three times the $181 million in losses recorded in July – and Allstate's August insurance losses may not yet be fully accounted for.
Allstate said that because of the widespread nature of the damage inflicted by Harvey, which slammed into Texas on August 25, its estimated losses for the month may still grow. The devastation from the storm has also prevented some people from reaching their homes or cars, meaning there may be other losses yet to be accounted for, according to local news station NBC 5.
The Insurance Council of Texas has estimated overall insured losses from Harvey to be nearly $19 billion. That includes an estimated $11 billion in payments to homeowners with flood insurance, NBC 5 reported.
Harvey impacted an area stretching from Houston to Louisiana, killing more than 70 people and damaging or destroying more than 250,000 homes. Days later, Hurricane Irma devastated the Caribbean and Florida. Last week, German reinsurer Munich Re became the first to warn that it might not hit previous financial goals thanks to the impact of the hurricanes, NBC 5 reported.
Based on reports by property and casualty insurers to Florida's Office of Insurance Regulation, the total number of insurance claims filed following Hurricane Irma to date is 496,532 – worth an estimated $3.1 billion.
The state's insurance regulator revealed the numbers yesterday, which included claims to private companies that underwrite flood coverage. However, the numbers do not include the roughly 17,000 claims (as of Thursday) filed in the state to the National Flood Insurance Program (NFIP). Of the tallied claims, 428,269 were for residential properties and 18,239 for commercial properties.
Florida Association of Insurance Agents president and CEO Jeff Grady believes the inflow of Irma-related claims has peaked and he would be surprised if damage totals hit the much higher levels projected by catastrophe modeling firms such as AIR Worldwide and CoreLogic.
"It seems the initial damage estimates might have been high based on the lack of structural damage in many parts of the state," Grady told Sun Sentinel.
Grady explained that most of the total claims tallied by the state will likely not result in payouts because they will not exceed their hurricane deductibles, which is usually equal to 2%-5% of their insured value.
Sun Sentinel reported that only 46,060 claims have been closed so far – 17,784 of those claims were closed with no payments.
The largest number of claims was filed in Miami-Dade County – 55,012, followed by Orange County with 44,696 claims, and Broward with 38,836 claims.
The most heavily-impacted community when comparing claims as a percentage of population is Monroe County, with 15.3 claims for every 100 residents. It was followed by Rural Highlands County with 10.2 claims per 100 residents and Seminole County with 8.5 claims per 100 residents.
Florida International University's College of Business released a report yesterday that projected total wind loss in Florida reaching $19.4 billion. Insurers, however, will only have to pay out $6.3 billion of the total, since most of the damage will not exceed hurricane deductibles.
In response to an investigative report, the California Department of Insurance has ordered Nationwide and USAA to not charge motorists in minority neighborhoods more than policyholders with similar risk profiles who live in predominantly white neighborhoods.
Released in April 2017, a report by ProPublica examined publicly-available auto insurance pricing data in four states – Illinois, Missouri, Texas and California. ProPublica found that many insurance companies were penalizing motorists in minority neighborhoods with higher auto insurance costs.
While California fared better than the other states featured in the report, ProPublica found that Safeco, Liberty Mutual, Nationwide and USAA charged at least 10% more in minority zip codes than in predominantly white zip codes with the same risk. Liberty Mutual was deemed the worst offender among the major insurers, with a 32% difference in certain zip codes.
Proposition 103 exists in California law to prevent auto insurers from discriminating against minority motorists.
"California drivers are once again benefitting from Proposition 103: to our knowledge, no other state besides California investigated the overcharges exposed in ProPublica's study," said initiative author Harvey Rosenfield. "Insurance Commissioner Dave Jones correctly recognized the need to follow up on the ProPublica report…"
The state Department of Insurance has not published the results of its own investigation into the matter. The agency has also chosen not to seek refunds for consumers who may have been overcharged in the past, and it has not revealed what measures it will take to prevent other insurers from committing the same mistake.
Consumer Watchdog has sworn to press for further action from the insurance regulator.
"The Department must provide the public with a full explanation of how it conducted its investigation, and exactly what it found, particularly the data that would show how much people already have been overcharged," the consumer advocate said in a statement.
"The Department must also ensure that every insurance company doing business in California obey the law that the voters put into place to prevent these kinds of overcharges."
Morgan Stanley believes that major insurers operating in Texas could stand to lose billions of dollars to claims made following Hurricane Harvey – with State Farm and Allstate to take the bulk of the hit.
The bank said that if media reports on the hurricane's damage – ranging between $30 billion and $40 billion – are correct, then Harvey would rank as the fourth worst storm in US history, when adjusted for inflation.
Although Harvey brought strong winds to Texas, it was the severe, flood-causing rainfall that caused the most damages, Morgan Stanley observed.
"Early estimates on wind losses from RMS are in the low single digit $billions. Flooding has been extensive and could cause more insured losses than wind," the bank said in its release.
The bank also found that in Texas, the 10 largest homeowners' insurers are responsible for the bulk of that market, and thus are anticipated to lose the most.
"The homeowners market is concentrated (the top-10 account for ~77% of the market), but wind losses could be less than flood losses," it said.
State Farm commanded the largest homeowners' market share, at 21.5%. Allstate came in second, with 12.7%, followed by Farmers with 10.9%. Of the rest that made the list, USAA has 10.1% of the market, Liberty 8.2%, Travelers 3.7%, Nationwide 3.0%, Texas Farm Bureau 2.8%, PGR 2.2%, and CB 2.1%.
Business Insider reported that the stock prices of Allstate and Travelers were down 1.53% and 2.63%, respectively, Monday afternoon.
By comparison, the state's commercial insurance market is much more fragmented.
"In the commercial market, the top-10 account for only about 55% of the market (with the largest two writers including Hartford Financial Services and Travelers)," it said.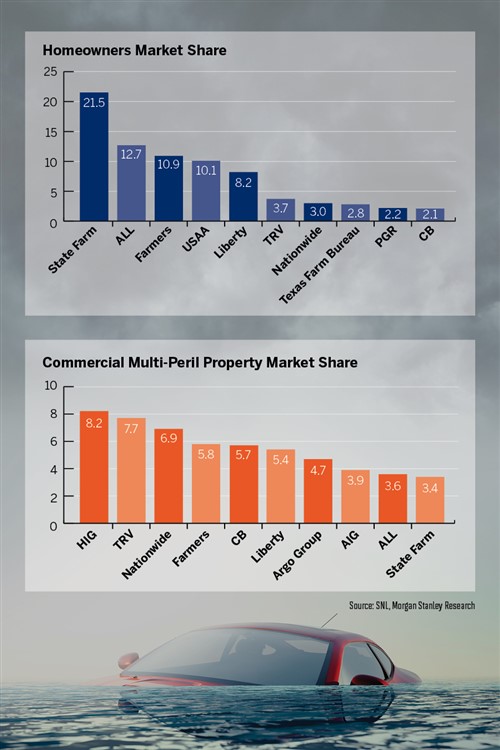 Just keep in mind this effects the whole country.
Automated vehicle technology could drastically reduce the number of accidents on our roads, and insurers are at the heart of making that happen. In addition, driverless vehicles could impact society in a number of positive ways – providing modes of transport for those currently unable to drive, tackling congestion, lowering emissions and reforming city planning.
Motor insurance has been compulsory in the UK for more than 80 years, but the industry has only made an underwriting profit once since 1993. We should be welcoming any disruption with open arms – and with insurers leading the charge in driverless, it puts us very much in control of our destiny.
The insurance industry has always supported innovations that help save lives. We're learning that potential life-saving benefits could come from removing distracted humans from driving. And risks related to cars will still need to be managed, even if the potential liability shifts from driver to manufacturer.
While it's still too early to know exactly what impact driverless cars will have on our industry, we know that we cannot sit and wait for this change – or any change – to happen. Carriers need to understand what's coming and develop strategies that help agents serve their clients as the world around us evolves.
We believe we will see a seismic shift from traditional personal lines policies to a future in which personal and commercial lines will blur and combine very closely as car-sharing and ride-sharing begin to change lifestyles.
For the players who are extremely focused on personal [motor] policies and don't have commercial lines capabilities, without a strategy to adapt, driverless cars represent a long-term existential crisis. For those who have strong commercial lines capabilities – knowledge on how to underwrite and price product liability – and who are dynamic in their thinking, the change driverless cars represents is potentially very good.
Global terrorist activity is an alarming feature of modern society. Our media is awash with news of political skirmishes and terror attacks – just last week in Barcelona and Finland as the most recent examples.
Such social instability has nurtured a highly competitive market for terrorism risk insurance in the US and worldwide. It's a market that has grown quickly in the US, considering its limited capacity in the wake of the World Trade Center attack in 2001.
In 2002, the Terrorism Risk Insurance Act (TRIA) was signed into federal law by President George W. Bush. It provided a federal "backstop" for insurance claims related to acts of terrorism and encouraged growth in the market by enabling insurers (and the industry) to manage their terrorism risk exposures.
"The introduction of the TRIA backstop encouraged property insurers to return to accepting terrorism risks and this created substantial new capacity with a connected reduction in pricing," said Quentin Prebble, Global Head of Terrorism at Ironshore. "The 'stand alone' market continues to exist as it provides greater assurance to buyers by providing coverage without the requirement of Government certification of the loss/incident in question as an Act of Terrorism."
The uptake of terrorism insurance has increased internationally as the product has become more affordable. Coverage conditions have broadened to include things like active shooter, threat, non-damage business interruption, limited cyber and denial of access cover. There has also been an increased uptake of political violence coverage as opposed to the more limited conditions of a 'stand alone' terrorism policy.
"The main area where there continues to be a coverage shortfall is in the area of nuclear, chemical and biological coverage," Prebble told Insurance Business. "This is largely the result of there being a very limited reinsurance market for these exposures. The management of the accumulation of risk in urban areas from these exposures in particular remains problematic for insurers."
There are other difficulties for insurers and brokers in the terrorism insurance space. Reduced pricing and broader coverage, coupled with an increased frequency of loss/incidents have decreased margins significantly, according to Prebble. For brokers, the reductions in pricing have made terrorism risk cover easier to sell but retention of business has become more challenging.
The industry also faces the issue of changing terrorism trends. In the past few years, the media has reported on multiple vehicle attacks involving civilians, a trend that is likely to continue according to Prebble.
"In addition to the increase in the incidence vehicle attacks there is the realistic possibility that drones will feature in attacks in the future. Effective geo-fencing at airports and where there are large gatherings of spectators in particular will be increasingly important in the future," he said.
The health insurance industry's Obamacare drama reached a climax on Tuesday, but it isn't over.
With Senate Republicans' failure to advance their bill to replace Obamacare, insurers are facing a summer of uncertainty. President Donald Trump's administration won't commit to making critical payments under Obamacare. Health plans have pulled out of some markets, and raised rates in others. And there's always the chance that Republicans could revive their effort to repeal the law.
"Our members and all Americans need the certainty and security of knowing coverage will be available and affordable for them," said Justine Handelman, senior vice president of policy and representation for the Blue Cross Blue Shield Association.
The next key moment comes in two days. That's the date when the administration — which has threatened to let Obamacare fail — is scheduled to make its next monthly subsidy payment to insurers under the ACA. Known as cost-sharing reduction payments, the subsidies were created by Obamacare to help low-income people afford to use medical services, and their legitimacy is the subject of a legal dispute.
So far, the White House — which has threatened to halt the subsidies in the past — hasn't committed to making the payment.
"Of course it's always an option" not to make the payment, said Sean Spicer, the White House press secretary. "We have a couple days left."
Lobbying Push
The Blue Cross Blue Shield Association said it has "consistently urged that there be immediate, certain funding for the cost-sharing reduction program." The insurers that sell under the brand collectively cover more than 100 million people in the U.S.
For some insurers, the best way to deal with the uncertainty around Obamacare has been to back away from it.
On Tuesday, UnitedHealth Group Inc., the U.S.'s biggest insurer, showed the benefits of avoiding the political minefield the law has become. It reported second-quarter profit that beat estimates and raised its 2017 forecast after turning its business away from the ACA's individual markets and more toward Medicare, Medicaid and coverage sold to employers.
With Republicans in Congress reeling Tuesday from the failure of their latest Obamacare repeal effort, the health care industry is facing an accumulation of "ifs." Obamacare's insurance markets still have problems. Trump has many powers at his command to undermine them further. And there's no map and no timeline by which lawmakers might find a resolution.
'No Clear Path'
"There is no clear path out of this," said Robert Laszewski, an insurance industry consultant who has been critical of Obamacare. "Individual markets continue to spiral downward partly because of the inherent issues in Obamacare's market architecture and partly because of Republican efforts to make things even worse."
Humana Inc. and Aetna Inc. have retreated from the law, and Anthem Inc., a key Obamacare player, has announced plans to quit or limit its presence in at least four states. The industry has cited the volatile politics around Obamacare as a reason for their pullback.
The next step in Congress is unclear. Senate Majority Leader Mitch McConnell proposed holding a vote to repeal Obamacare without a replacement plan, on a two-year delay. But enough GOP senators quickly said they opposed that plan to effectively kill it.
Trump Threat
Meanwhile, Trump expressed support for a plan sure to dismay insurers.
"We'll let Obamacare fail and then the Democrats are going to come to us," Trump said Tuesday at the White House. "We're probably in that position where we'll let Obamacare fail. We're not going to own it. I'm not going to own it. I can tell you the Republicans are not going to own it."
Kristine Grow, a spokeswoman for America's Health Insurance Plans, another lobbying group for insurers, declined to comment directly on Trump's threats. "We remain committed to working with every policy maker and the administration to ensure the short-term stability and long-term improvement of health care," she said.
A third insurance group, the Association for Community Affiliated Plans, said it also wanted lawmakers to try and stabilize the ACA. "We believe there are a number of fixes needed to stabilize the individual market, such as guaranteeing funding for cost-sharing reductions and ensuring that coverage is truly affordable for consumers," said Margaret Murray, the group's chief executive officer.
The fiscal crisis in Hartford, the historic center of the American insurance industry, is fast becoming more representative than mansions or yachts of the wealthiest state in the U.S. The city is edging closer than ever to the breaking point, waiting for the financially troubled state government to step in.
It may seem crazy that a place as rich as the Nutmeg State, which counts among its residents hedge-funds masters like Ray Dalio and Steven A. Cohen and legions of Wall Street bankers, could be in such fiscal trouble. Last year, the per-capita income there was $71,033, the highest in the nation, according to the U.S. Bureau of Economic Analysis.
For all that, state-worker pensions have been underfunded for decades. Tax increases aimed at closing deficits have put a strain on an economy struggling from the loss of high-paying finance jobs, leaving it among the few that still haven't recovered from the recession. The hedge fund industry fell on hard times, with about 1,060 shuttering globally last year. UBS Group AG abandoned the world's largest trading floor in Stamford after the financial crisis, and the Royal Bank of Scotland downsized its office there. Pension, debt and health-care costs just kept growing.
"There's a limit to how much you can tax and there's a limit to how much you can cut before you damage the viability and attractiveness of the city," Mayor Luke Bronin said in May. "Right now, from a fiscal standpoint, you have a capital city fighting with its hands behind its back."
Like many other local governments across the country, Hartford — city of Mark Twain and the young John Pierpont Morgan — has been grappling with budget problems for years. On the same day that Illinois lawmakers finally scraped together a long-overdue budget, Hartford hired the law firm Greenberg Traurig LLP to evaluate its options, which include bankruptcy. It would be the first prominent U.S. municipality to seek protection from its creditors since Detroit did so in 2013.
As for Connecticut, it faces a projected two-year deficit of $5 billion that lawmakers haven't figured out how to close, even though the new fiscal year began on July 1.
In Hartford, the woes have been piling up for a while. Like Puerto Rico, which filed a record-setting bankruptcy in May, or even Greece, the city came to the edge in the usual way: slowly, then suddenly. The population declined 23 percent between 1960 and 2000 and has remained stagnant ever since. A third of its residents live in poverty, a higher share than in Baltimore or Newark. From 2010 to 2014, the metropolitan area saw the fifth-biggest decline in employers in the nation, according to the Economic Innovation Group, a Washington-based public policy organization.
Hartford's tax base of about $4.1 billion is about two-thirds that of neighbor West Hartford, which has far fewer residents, because half of the property — state buildings, hospitals, universities, non-profit agencies — is tax-exempt. Hartford has the highest property tax rate in the state and faces a $50 million deficit, nearly 10 percent of its budget. The city's credit rating may be downgraded deeper into junk by Moody's Investors Service.
Uninsured Hartford bonds maturing in 2024 traded at yields of more than 6 percent in late June, compared with about 4.4 percent in January, as investors' jitters mounted. The city has $672 million in debt, including $228 million of uninsured bonds, according to data compiled by Bloomberg. It also guarantees about $70 million in debt for a minor-league baseball stadium downtown.
Governor Dannel Malloy and Republican and Democratic leaders in the legislature agree the bankruptcy of the state's capital isn't another negative headline they need. General Electric Co. has decamped from Fairfield to Boston, and last week Aetna Inc. said it was moving its corporate headquarters from Hartford, where it has been since 1853, to New York. About 250 jobs are going with it, though thousands will stay in town.
"The state needs a budget that supports Hartford, its residents and its employers," said Chris McClure, a spokesman for Malloy. "In the absence of action by the General Assembly on a budget vote, it's entirely appropriate that the city explore all its options and prepare for every contingency."
Greenberg Traurig's team will be led by Nancy Mitchell, a co-chair of the firm's restructuring practice, the city said in a statement. When Hartford was soliciting proposals from firms that specialize in bankruptcy, Council President Thomas Clarke told the local newspaper that looking into court protection from creditors would only be a last ditch option.
"They will be working with us to examine all options for putting the city of Hartford on a sustainable path," the mayor said in a statement. "As we start a new fiscal year without a state budget and with significant uncertainty, we will have the advice and counsel of an experienced and highly respected restructuring firm."
In 2016, Bronin, a Democrat, took over a city that had been delaying its fiscal reckoning by pushing debt payments into the future, draining reserves and resorting to one-time measures, such as selling a parking garage, while its debt swelled by 52 percent from 2011 to 2015, according to Moody's figures.
Since taking office, he's cut 100 jobs and renegotiated leases and energy contracts. Bronin's been less successful in getting concessions from unions: The city's fiscal 2017 budget assumed $16.5 million of concessions, the bulk of which haven't materialized.
Hartford managed to strike a deal with its firefighters that saves about $4 million a year through 2020 by freezing pay increases, increasing pension contributions, lowering salaries for new hires and requiring employees to pay more for health care.
The city could renegotiate labor contracts and cut debt and pensions in bankruptcy, as a handful of cities have done since the recession. But it would need the governor's consent to file for Chapter 9.
Bronin is lobbying for the state to fully fund a program that compensates local governments for revenue lost to tax-exempt properties, which alone would provide enough money to close next year's deficit, and has joined with cities pushing to raise Connecticut's 6.35 percent sales tax to 6.99 percent to provide more aid.
He also persuaded Hartford Financial Services Group Inc., Travelers Cos. and Aetna to pledge $50 million to the city over five years as part of a "comprehensive and sustainable solution for Hartford."
Sutter Health, a not-for-profit health care system in Northern California, and Aetna have announced plans to launch a jointly owned health plan. This new collaboration, the first of its kind in Northern California, will bring together
Sutter Health's network of doctors and hospitals with Aetna's health plan expertise, and shared care management capabilities.
Sutter Health and Aetna anticipate offering self-insured commercial products starting mid-2018 in the greater Sacramento, Central Valley and Bay Area communities, as well as fully insured PPO products to follow in early 2019, pending regulatory approval.
Celebrate excellence in insurance. Nominate a worthy colleague for the Insurance Business Awards.
This new company will complement Sutter Health's and Aetna's current products by providing more choices to Northern California's commercially and self-insured populations.
By equally sharing ownership and accountability, Sutter Health and Aetna aim to "integrate the continuum of care delivery, from wellness to disease management, care coordination, and access." The joint venture will also streamline administrative services for members.
The JV is hoping to use combined data analytics to identify at-risk patients sooner and provide them with earlier access to care by expanding access to alternative sites of care, and using advanced population health technology to help members better manage chronic and other health conditions.
"We are excited to partner with Sutter Health on this joint venture," said Mike Bahr, Aetna's senior vice president of local markets and territories. "With Sutter Health, we believe we have found a strong partner that shares our vision to transform health care in Northern California by providing members with a simpler, more personal experience."
"Patients benefit when providers and health plans share resources and work together," says Phil Jackson, Sutter Health's CEO of Health Plan Products. "Our Sutter Health and Aetna insurance product offerings will provide employers with new self-funded and fully insured PPO options in Northern California."
Currently, Sutter Health-affiliated providers care for more than three million Northern California residents. Aetna provides health care benefits to approximately 415,000 members in Northern California.
Aetna projects to have at least 75 percent of its claim payments in value-based models by 2020.
PR Newswire
Tesla may tout its vehicles as safe, but an insurer thinks otherwise.
Insurance firm AAA is raising rates on Tesla cars by as much as 30% based on data showing that the carmaker's two luxury models had more claims and cost more to repair.
A report by trade publication Automotive News said that AAA is basing its rate hike on data from the Highway Loss Data Institute.
According to the institute, Model X owners file for claims 41% more often than the average car, and that these claims cost 89% more than the average.
Meanwhile, the Model S was reportedly involved in 46% more claims than the average and that these claims cost at least twice as much as the average.
The report said that AAA saw the data as an anomaly. "Looking at a much broader set of countrywide data, we saw the same patterns observed in our own data, and that gave us the confidence to change rates," Anthony Ptasznik, AAA chief actuary told the News.
However, Tesla questioned the parameters for the data saying in an emailed statement to the publication that "This analysis is severely flawed and is not reflective of reality. Among other things, it compares Model S and X to cars that are not remotely peers, including even a Volvo station wagon."
The report also said that other major insurers such as State Farm and Geico consider claims data as a significant factor in computing for premiums. The two companies did not disclose whether they will be increasing rates for their Tesla policy holders.