Allstate is expecting insurance losses of about $593 million in August in the wake of Hurricane Harvey.
That's more than three times the $181 million in losses recorded in July – and Allstate's August insurance losses may not yet be fully accounted for.
Allstate said that because of the widespread nature of the damage inflicted by Harvey, which slammed into Texas on August 25, its estimated losses for the month may still grow. The devastation from the storm has also prevented some people from reaching their homes or cars, meaning there may be other losses yet to be accounted for, according to local news station NBC 5.
The Insurance Council of Texas has estimated overall insured losses from Harvey to be nearly $19 billion. That includes an estimated $11 billion in payments to homeowners with flood insurance, NBC 5 reported.
Harvey impacted an area stretching from Houston to Louisiana, killing more than 70 people and damaging or destroying more than 250,000 homes. Days later, Hurricane Irma devastated the Caribbean and Florida. Last week, German reinsurer Munich Re became the first to warn that it might not hit previous financial goals thanks to the impact of the hurricanes, NBC 5 reported.
Based on reports by property and casualty insurers to Florida's Office of Insurance Regulation, the total number of insurance claims filed following Hurricane Irma to date is 496,532 – worth an estimated $3.1 billion.
The state's insurance regulator revealed the numbers yesterday, which included claims to private companies that underwrite flood coverage. However, the numbers do not include the roughly 17,000 claims (as of Thursday) filed in the state to the National Flood Insurance Program (NFIP). Of the tallied claims, 428,269 were for residential properties and 18,239 for commercial properties.
Florida Association of Insurance Agents president and CEO Jeff Grady believes the inflow of Irma-related claims has peaked and he would be surprised if damage totals hit the much higher levels projected by catastrophe modeling firms such as AIR Worldwide and CoreLogic.
"It seems the initial damage estimates might have been high based on the lack of structural damage in many parts of the state," Grady told Sun Sentinel.
Grady explained that most of the total claims tallied by the state will likely not result in payouts because they will not exceed their hurricane deductibles, which is usually equal to 2%-5% of their insured value.
Sun Sentinel reported that only 46,060 claims have been closed so far – 17,784 of those claims were closed with no payments.
The largest number of claims was filed in Miami-Dade County – 55,012, followed by Orange County with 44,696 claims, and Broward with 38,836 claims.
The most heavily-impacted community when comparing claims as a percentage of population is Monroe County, with 15.3 claims for every 100 residents. It was followed by Rural Highlands County with 10.2 claims per 100 residents and Seminole County with 8.5 claims per 100 residents.
Florida International University's College of Business released a report yesterday that projected total wind loss in Florida reaching $19.4 billion. Insurers, however, will only have to pay out $6.3 billion of the total, since most of the damage will not exceed hurricane deductibles.
In response to an investigative report, the California Department of Insurance has ordered Nationwide and USAA to not charge motorists in minority neighborhoods more than policyholders with similar risk profiles who live in predominantly white neighborhoods.
Released in April 2017, a report by ProPublica examined publicly-available auto insurance pricing data in four states – Illinois, Missouri, Texas and California. ProPublica found that many insurance companies were penalizing motorists in minority neighborhoods with higher auto insurance costs.
While California fared better than the other states featured in the report, ProPublica found that Safeco, Liberty Mutual, Nationwide and USAA charged at least 10% more in minority zip codes than in predominantly white zip codes with the same risk. Liberty Mutual was deemed the worst offender among the major insurers, with a 32% difference in certain zip codes.
Proposition 103 exists in California law to prevent auto insurers from discriminating against minority motorists.
"California drivers are once again benefitting from Proposition 103: to our knowledge, no other state besides California investigated the overcharges exposed in ProPublica's study," said initiative author Harvey Rosenfield. "Insurance Commissioner Dave Jones correctly recognized the need to follow up on the ProPublica report…"
The state Department of Insurance has not published the results of its own investigation into the matter. The agency has also chosen not to seek refunds for consumers who may have been overcharged in the past, and it has not revealed what measures it will take to prevent other insurers from committing the same mistake.
Consumer Watchdog has sworn to press for further action from the insurance regulator.
"The Department must provide the public with a full explanation of how it conducted its investigation, and exactly what it found, particularly the data that would show how much people already have been overcharged," the consumer advocate said in a statement.
"The Department must also ensure that every insurance company doing business in California obey the law that the voters put into place to prevent these kinds of overcharges."
Morgan Stanley believes that major insurers operating in Texas could stand to lose billions of dollars to claims made following Hurricane Harvey – with State Farm and Allstate to take the bulk of the hit.
The bank said that if media reports on the hurricane's damage – ranging between $30 billion and $40 billion – are correct, then Harvey would rank as the fourth worst storm in US history, when adjusted for inflation.
Although Harvey brought strong winds to Texas, it was the severe, flood-causing rainfall that caused the most damages, Morgan Stanley observed.
"Early estimates on wind losses from RMS are in the low single digit $billions. Flooding has been extensive and could cause more insured losses than wind," the bank said in its release.
The bank also found that in Texas, the 10 largest homeowners' insurers are responsible for the bulk of that market, and thus are anticipated to lose the most.
"The homeowners market is concentrated (the top-10 account for ~77% of the market), but wind losses could be less than flood losses," it said.
State Farm commanded the largest homeowners' market share, at 21.5%. Allstate came in second, with 12.7%, followed by Farmers with 10.9%. Of the rest that made the list, USAA has 10.1% of the market, Liberty 8.2%, Travelers 3.7%, Nationwide 3.0%, Texas Farm Bureau 2.8%, PGR 2.2%, and CB 2.1%.
Business Insider reported that the stock prices of Allstate and Travelers were down 1.53% and 2.63%, respectively, Monday afternoon.
By comparison, the state's commercial insurance market is much more fragmented.
"In the commercial market, the top-10 account for only about 55% of the market (with the largest two writers including Hartford Financial Services and Travelers)," it said.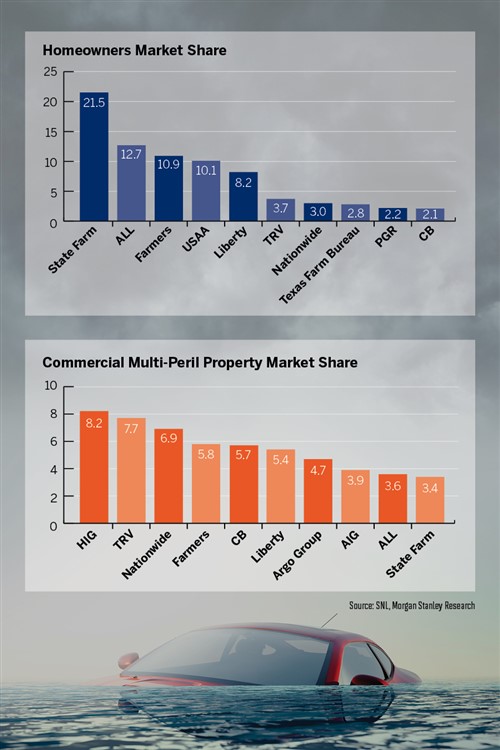 Just keep in mind this effects the whole country.